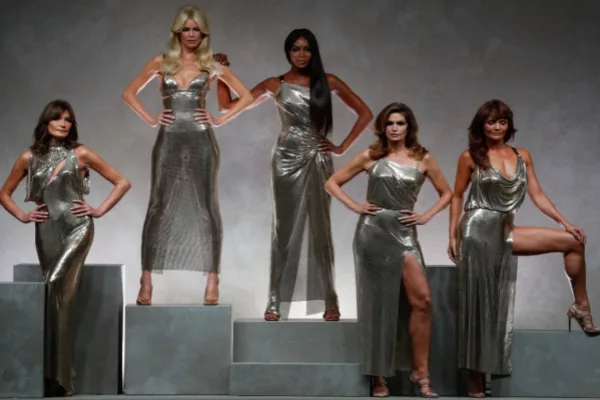 Vogue U.S. has announced its September 2023 issue, traditionally its most important month of the year's editorial calendar — and revealed that it would be shared with British Vogue. Both covers will feature supermodel powerhouses Linda Evangelista, Cindy Crawford, Christy Turlington and Naomi Campbell, ahead of the September 20 premiere of Apple TV+'s four-part documentary, "The Super Models."
Photographed by Rafael Pavarotti and styled by British Vogue editor-in-chief Edward Enninful, the Super quartet stun in sleek all-black looks: Evangelista in Michael Kors, Crawford in Bottega Veneta, Turlington in Versace and Campbell in Prada.
As Fashionista reports, in the accompanying feature, writer Sally Singer delves into the "it" factor these women share: "extraordinarily photogenic features, born-with-it confidence, quick wit, intuitive style [and] intense curiosity". Fashion greats could clearly see their talent, with Michael Kors saying of Crawford: "Cindy walked for me and you knew it was a whole new chapter—very poised, her own way of moving, not stuck in the old-world Parisian way of modeling. The models who were traditional runway models in that show took a look at her and knew this was going to be a whole new era."
As "fashion's Spice Girls," a hairdresser Guido Palau calls them, the four banded together in the face of unbelievable fame and developed unwavering friendships. Campbell said: "There was a sisterhood there, defined by caring and loyalty: When one is down you pick the other one up."
The dual cover for Vogue and British Vogue reflects Condé Nast's globalization efforts,  with its global leadership structure and Anna Wintour's role as Vogue's global editor director. It's also a sign of the times, as resources (and print publishing cadence) are consolidated between titles — even for what was once the most hyped-up issue of the year.
Vogue's 2023 September edition will be available on newsstands on August 22. Read the full cover story at vogue.com.
—
Photo Credit: FashionStock.com / Shutterstock.com